Android does not have native support for OpenVPN connections, but you can use the third-party OpenVPN Connect app to get your Android devices connected to Ghost Path over OpenVPN. You can also use a PPTP connection if you need to, but OpenVPN is always preferred.
OpenVPN Connect Setup on Android
Step 1: Install the OpenVPN Connect app from the Google Play Store. You can use any OpenVPN client that lets you import connection files, but we prefer OpenVPN Connect because it's from the same group that makes the excellent OpenVPN clients that our own Ghost Path client is built upon. We know how well it works.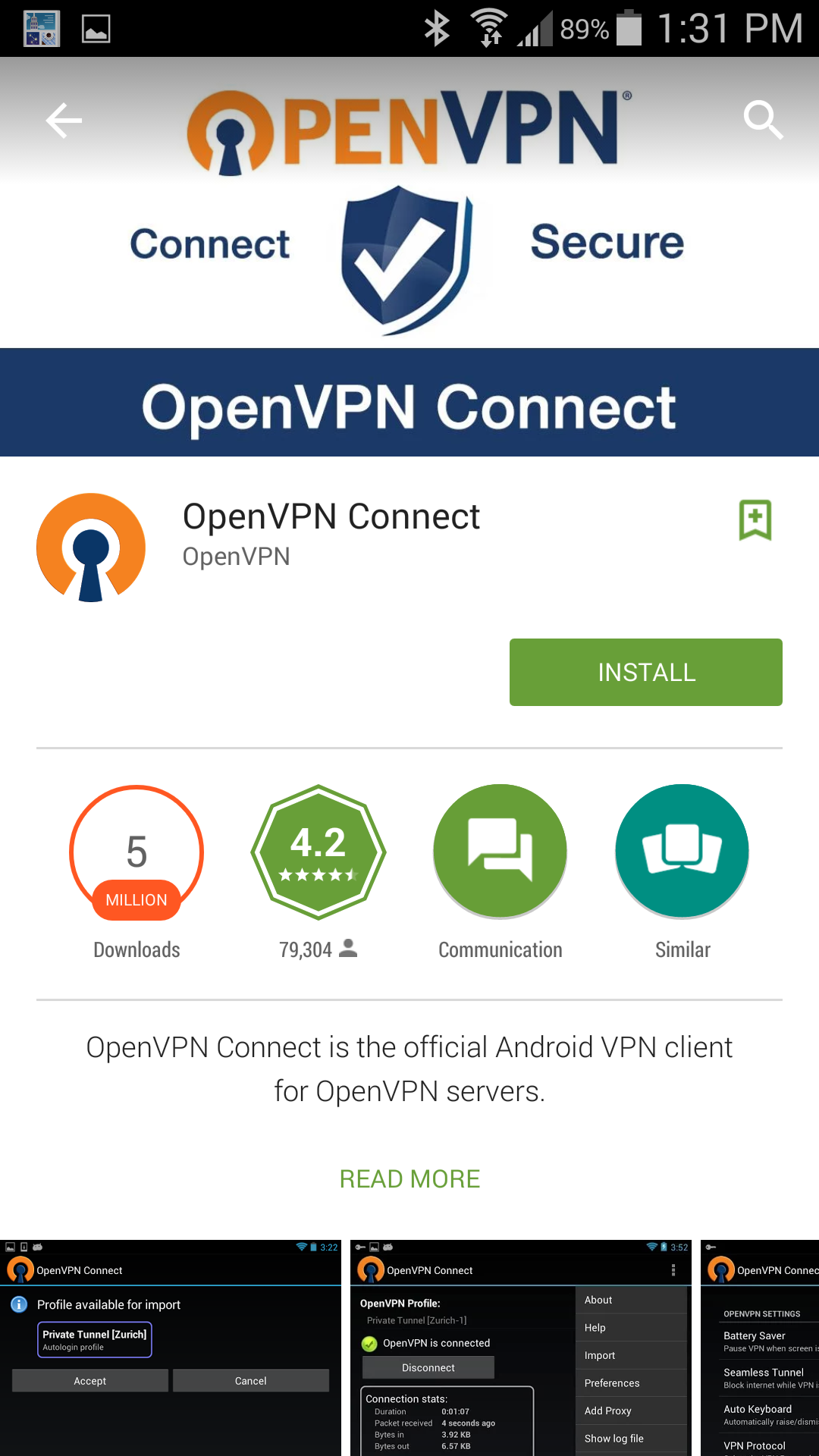 There are several OpenVPN apps in the Google Play Store. Make sure you choose the one called OpenVPN Connect.
Step 2: Download a connection file from our VPN servers list. You may want to do this from your desktop computer. Choose the server that you want to setup on your Android device and download the .ovpn file for it. It's the first icon under Tools in the table showing all of our servers. If you do this on your desktop computer you can just email the .ovpn file to yourself so that you can easily access it on your Android.
Step 3: Open up the OpenVPN Connect app and choose Import from the menu.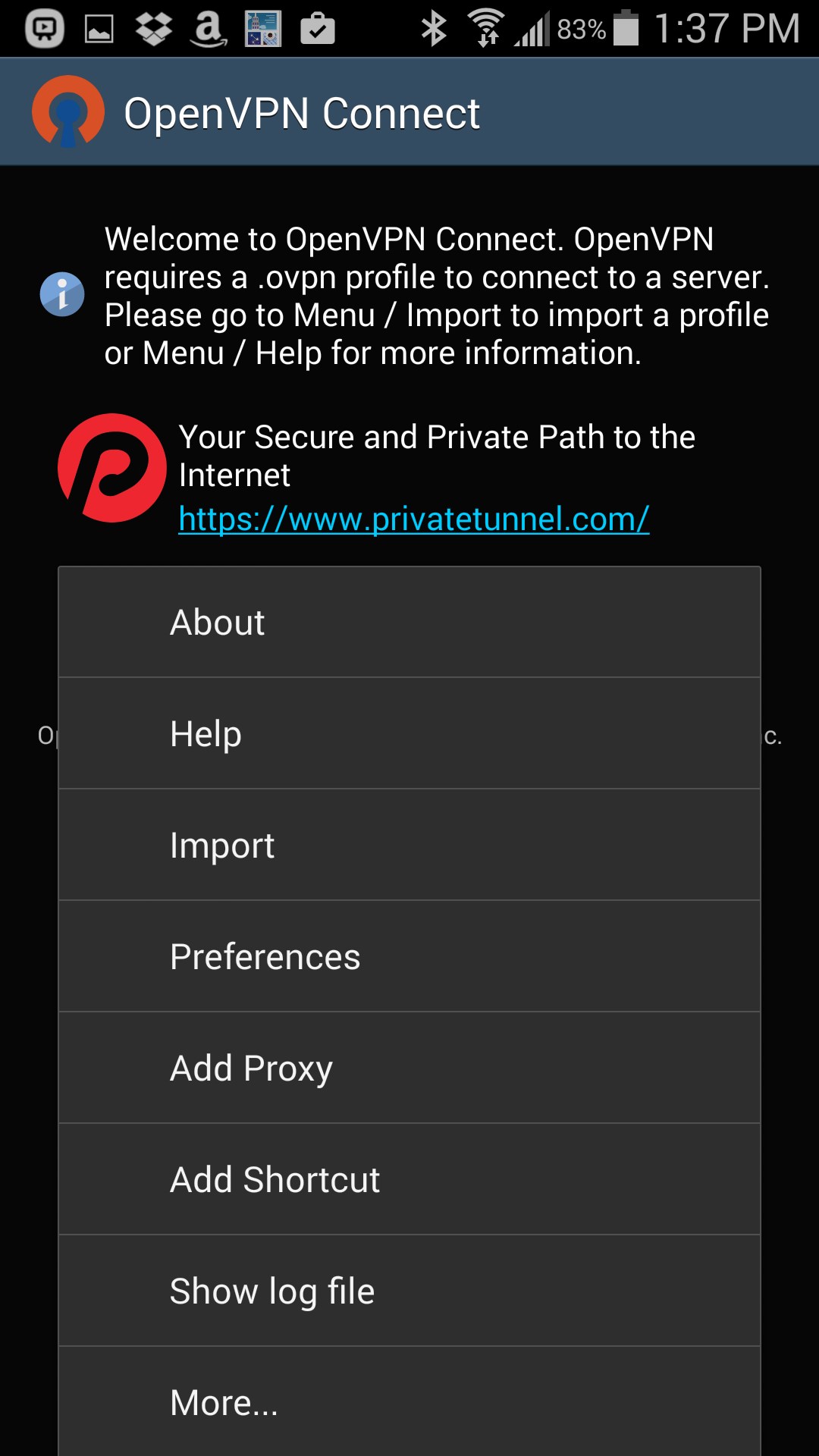 Import the .ovpn file that you downloaded from our servers list.
Step 4: Enter your Ghost Path credentials. Check the Save box if you want the app to remember your password so you don't have to enter it each time.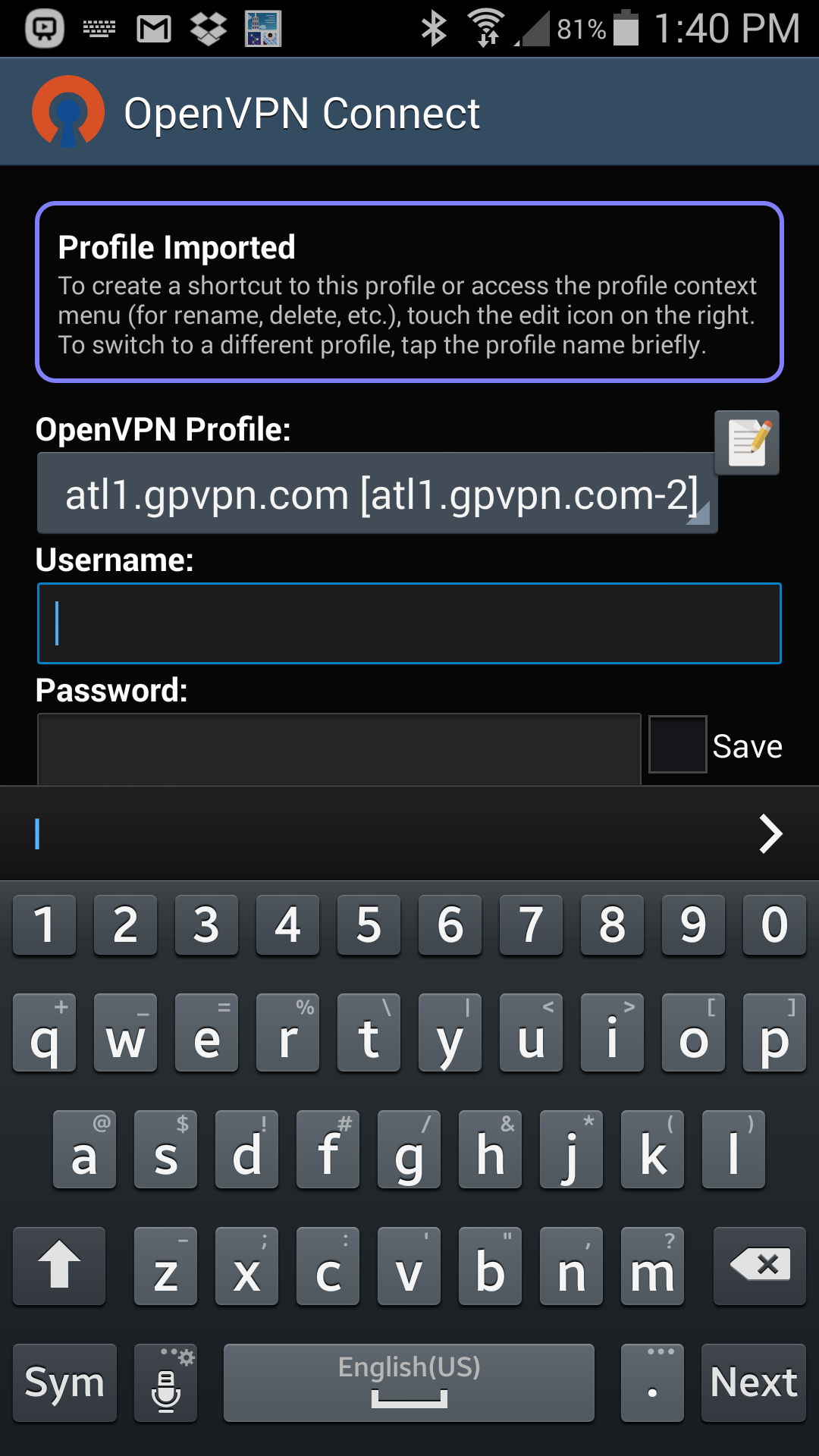 Enter your Ghost Path username and password. Be sure to use the "@ghostpath.com" username.
Step 5: Tell Android that you trust the OpenVPN app to manage your connection.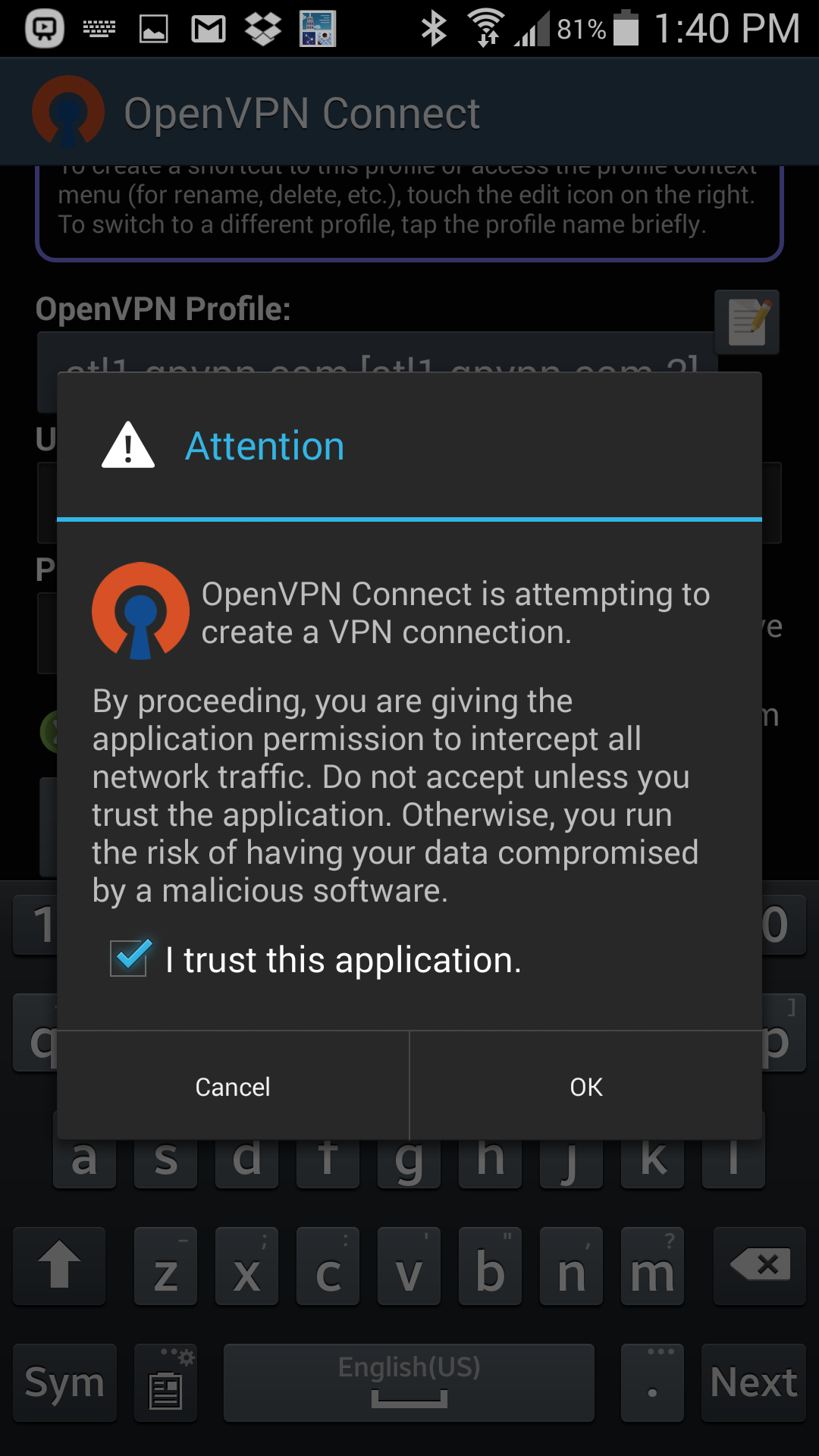 You must allow the OpenVPN app to manage your data.
Success! Everything should be working and you should be connected at this point.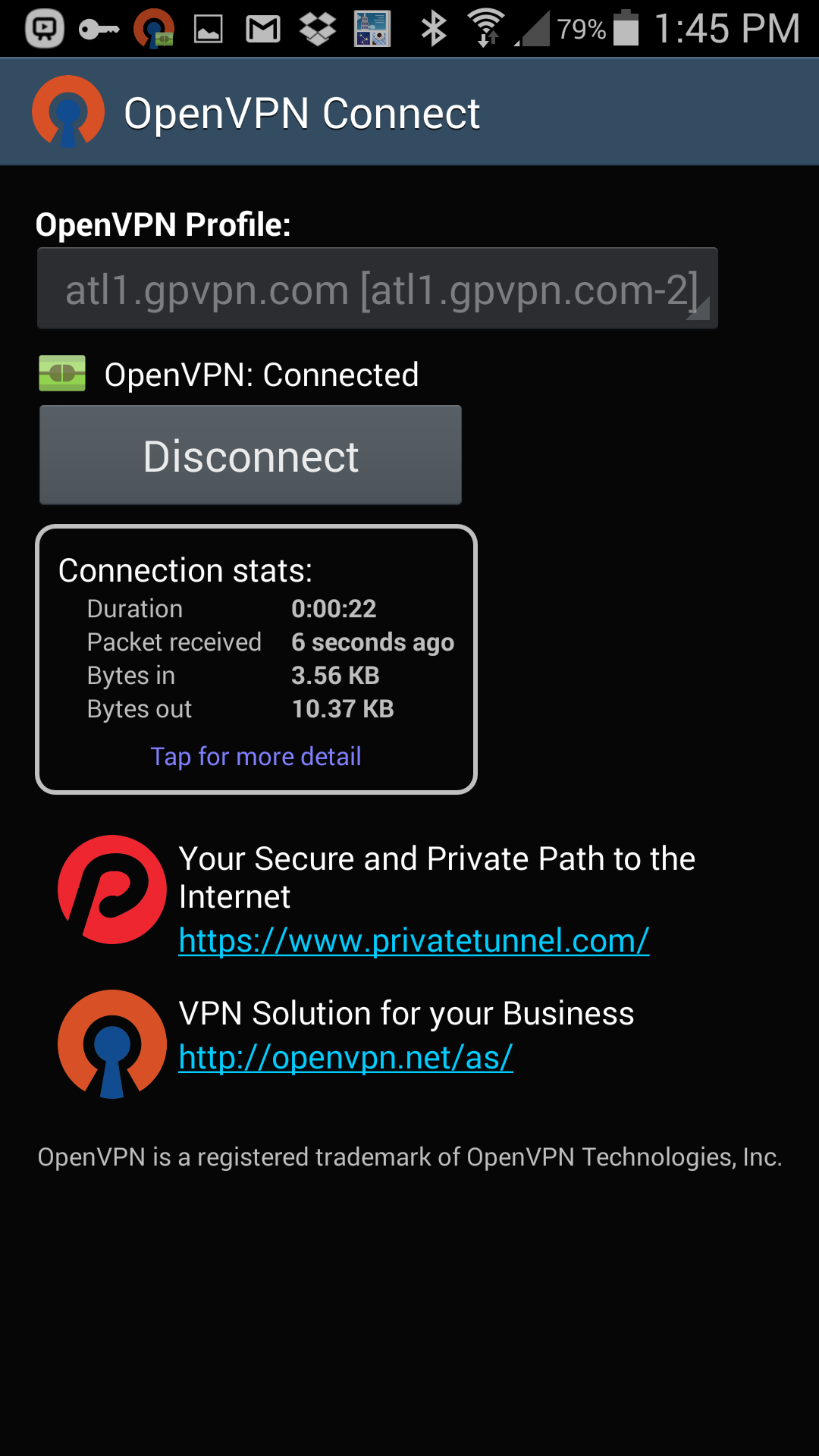 Now you should be connected.
You can use the OpenVPN Connect app to change the name of the server that you're connecting to. For example, if you wanted to connect to the Las Vegas VPN server then you would simply change the server address to las1.gpvpn.com in the OpenVPN Connect app. We're always here to help if you run into any problems. Safe browsing!